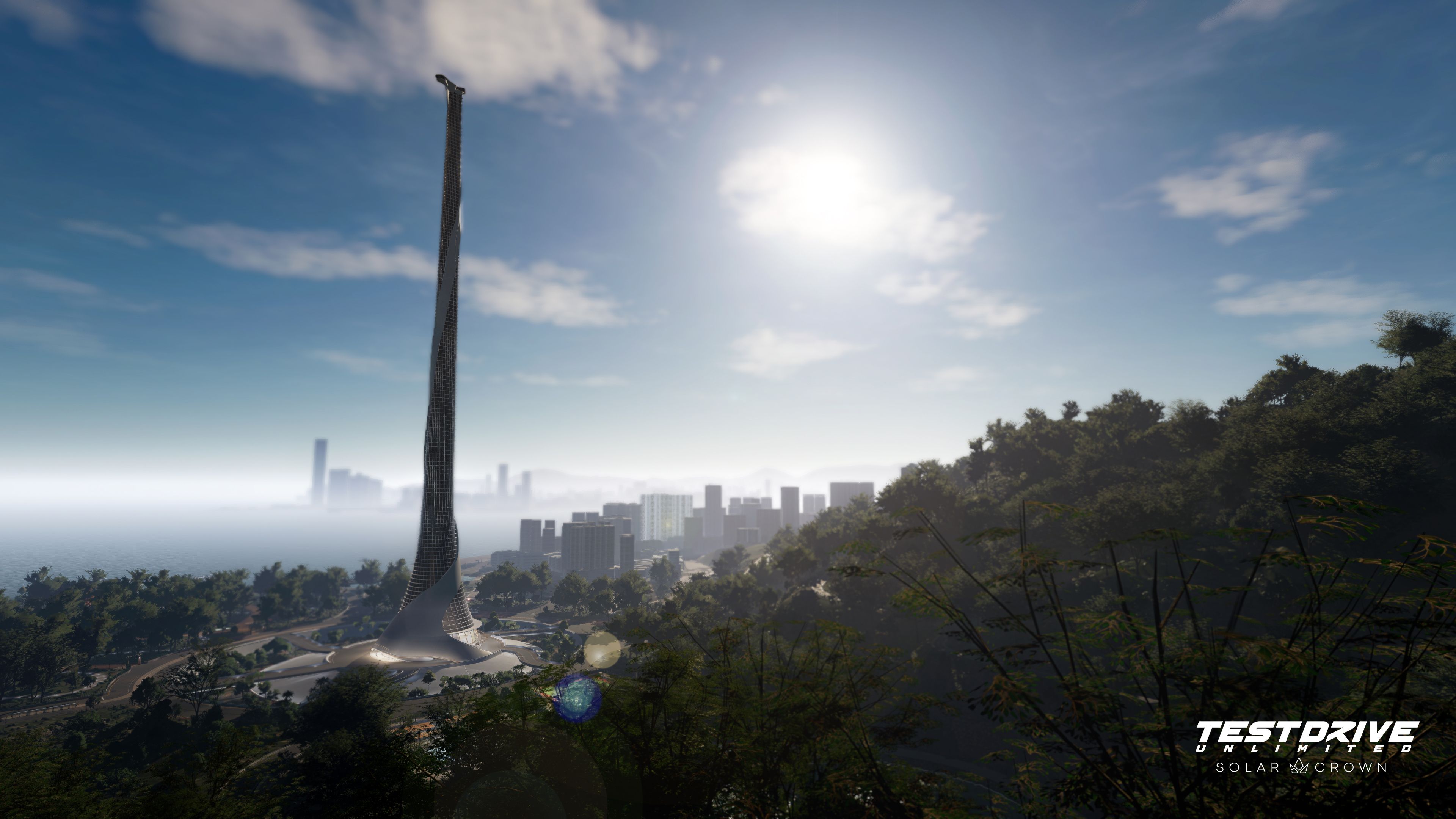 Dear Solar Club members,
A little-known but highly influential organization called Radiant will soon invite the first members to an extraordinary competition: the Solar Crown. The public are unaware of the group's motives, but it's clear what they value: Prestige, a love of Cars, and Competition.
No one knows the exact origins of Radiant, but it is made up of elite and influential people whose goal is to create a street racing extravaganza without limits. To allow future participants to compete with the best possible preparation, Radiant has built an impressive and luxurious building: the Solar Hotel.
Located in Victoria Park in the heart of Causeway Bay, the Solar Hotel is a unique architectural jewel. Its unusual and futuristic silhouette immediately leaves a big impression. At 540m (1,772 ft.) high and with 120 floors, it is one of the 10 highest skyscrapers in the world. When you first encounter the Solar Hotel, several questions will probably cross your mind. What is its role? How was it built? Who are the other residents? But one thing's for sure: it always leaves a big impact.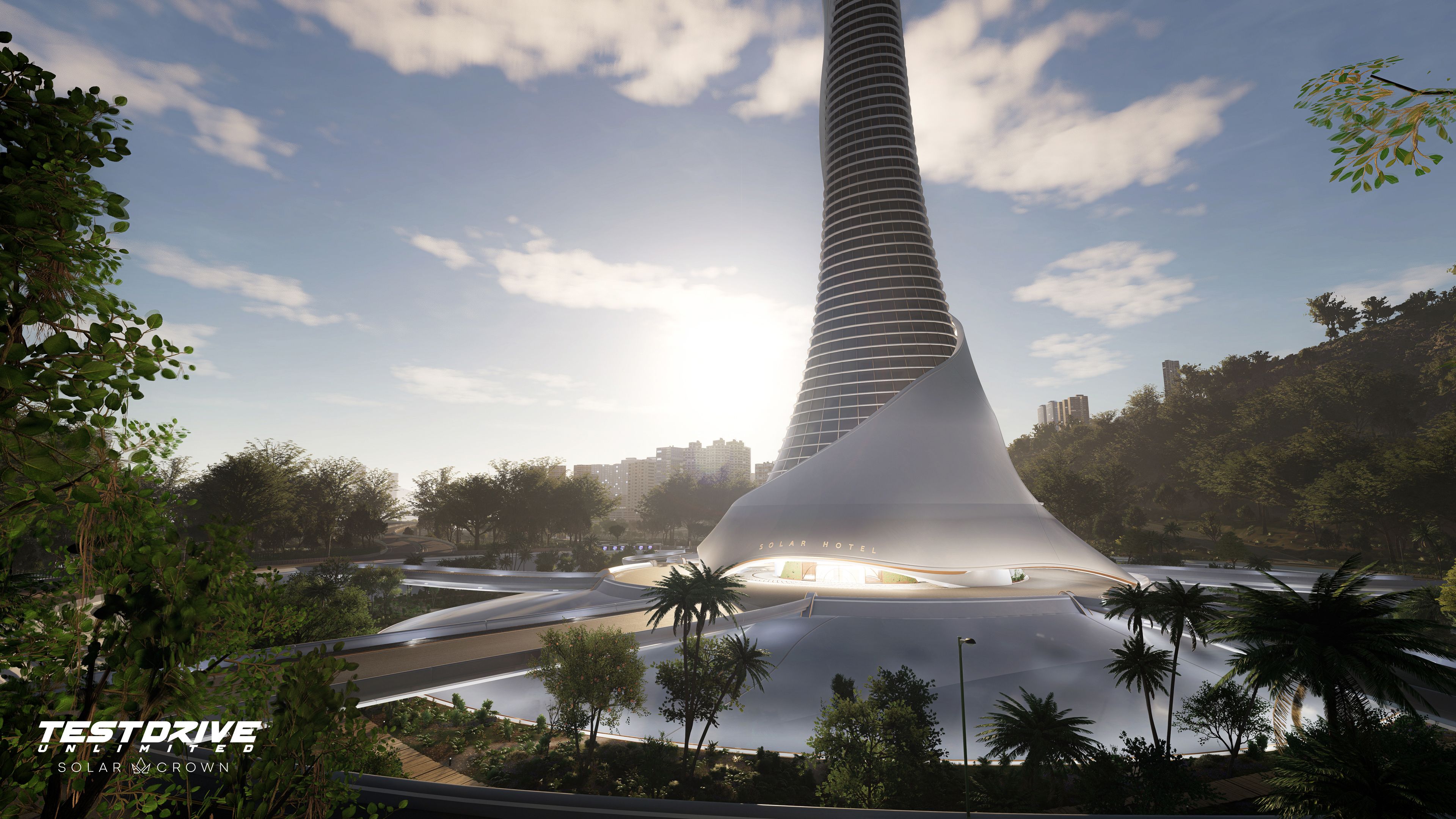 A MODERN AND LUXURIOUS HQ
After taking the elevator, you head to your first suite, graciously provided by Vivian, President of the Solar Crown Organization Committee. Upon entering, you find yourself in a bright and spacious room, decorated in an ultra-modern, minimalist style.
Here you'll find your wardrobe where you can change your outfit whenever you want. Members who are concerned with their image can therefore always remain stylish and show off their coolest outfits for everyone to see. For drivers who are more concerned with the competition, all the suites have an augmented reality screen with a wide range of information: weather, upcoming challenges, player profile, and progress details.
In the comfort of this premium suite, your temporary home, you can recharge your batteries between races. The Solar Crown Organization also stipulates that its most distinguished members will be offered increasingly prestigious suites as they move up through the ranks and gain more reputation.
Rising up the Solar Hotel is another way to further increase your fame and dominate the world of TDU. It perfectly reflects Radiant's selective philosophy: every participant should feel important and be rewarded with privileges. Every new outing around Hong Kong Island will start from your room, your personal HQ.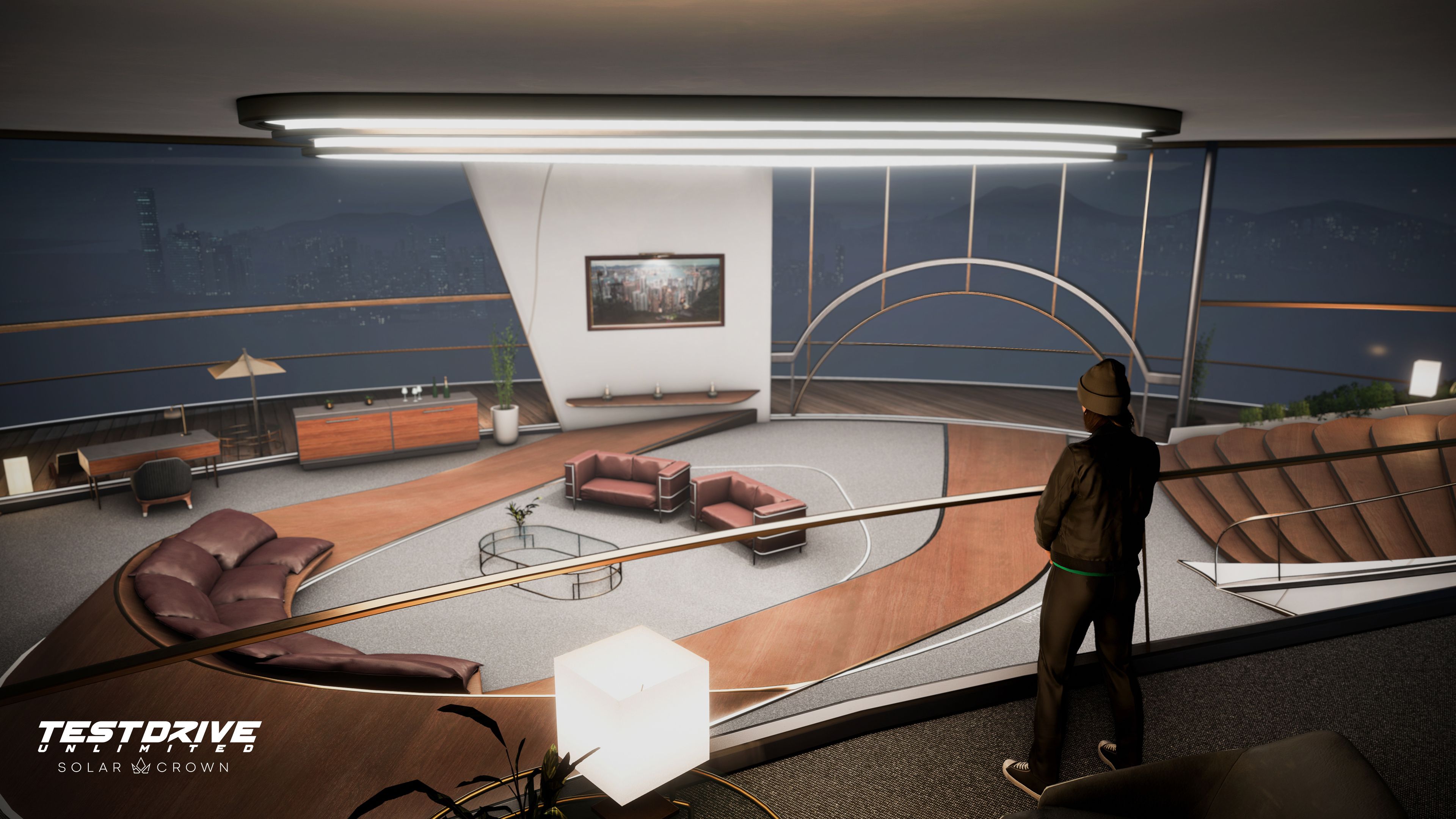 Note from Jérôme Mariotti, Art Director:
"The Solar Hotel is inspired by 'Arcology' and aerodynamics. It is notable for its slender and organic shape, combined with the latest architectural, aerospace and automobile technologies. Its spire reaches up at over 500 metres (1,640 ft.) from the ground and dominates the Hong Kong skyline.
Its location is somewhat linked to its connection with the tournament's competitors. It overlooks the city and encourages you to push yourself to another level. It is a central hub for players – who gain access to increasingly luxurious rooms as they progress in the competition – and has stunning views over HKI."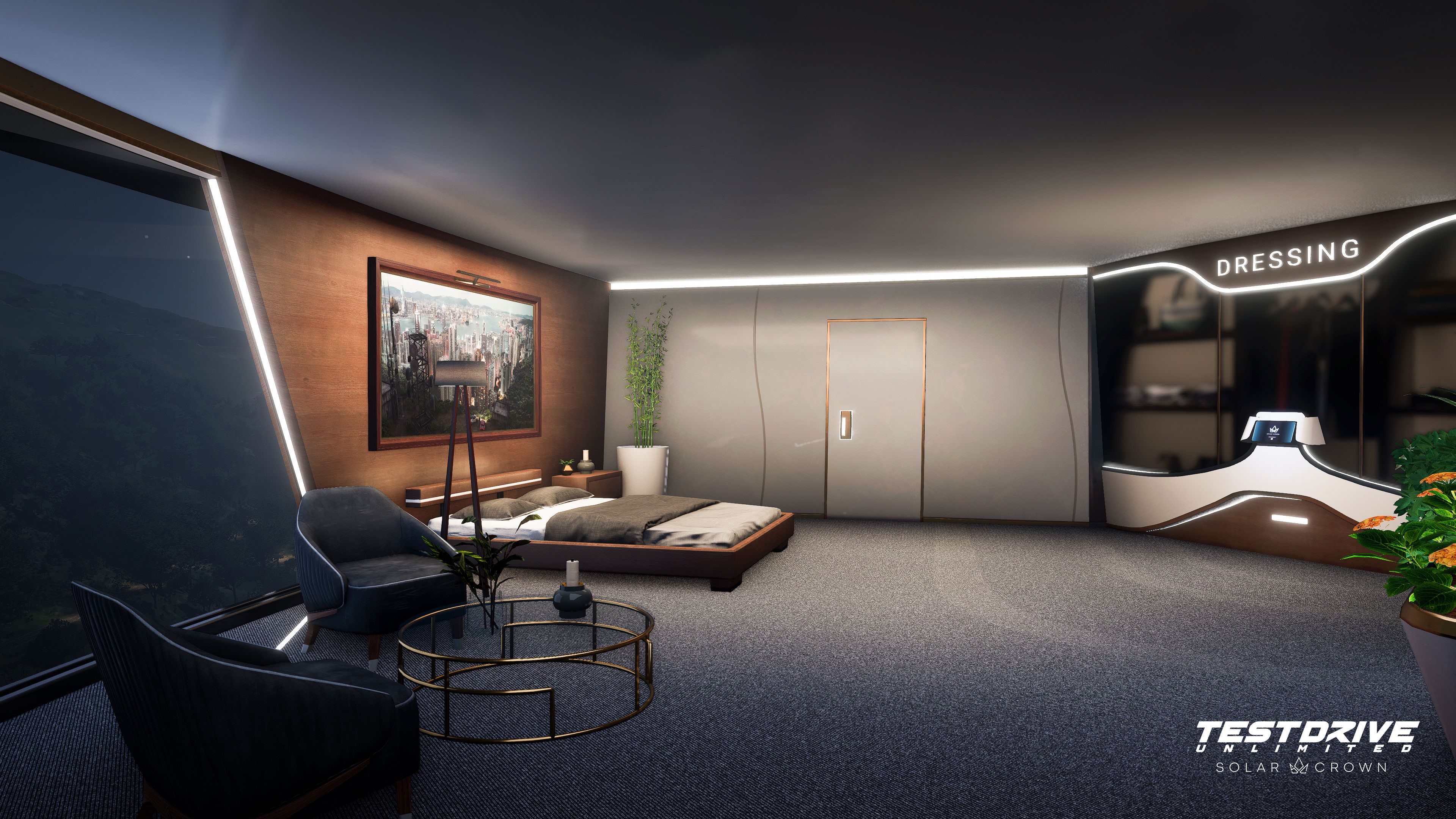 A CONNECTED LOBBY
After looking around your new suite, it's time to get in your car so you can explore the city. This will take you through the hotel lobby. Designed as a social hub, this majestic hall is primarily a place to meet and chat with other members who have been invited to take part in the Solar Crown.
The Solar Hotel's lobby is the main hub for all participants of the Solar Crown. This wide-open space showcases the best drivers and displays the activities available. It's a common area where Sharps and Streets are constantly meeting each other as they come down from their suites. It's the perfect place to make friends or stoke rivalries! The Solar Crown Organization will give you more details on the rules and interactions between members in the lobby in a future newsletter.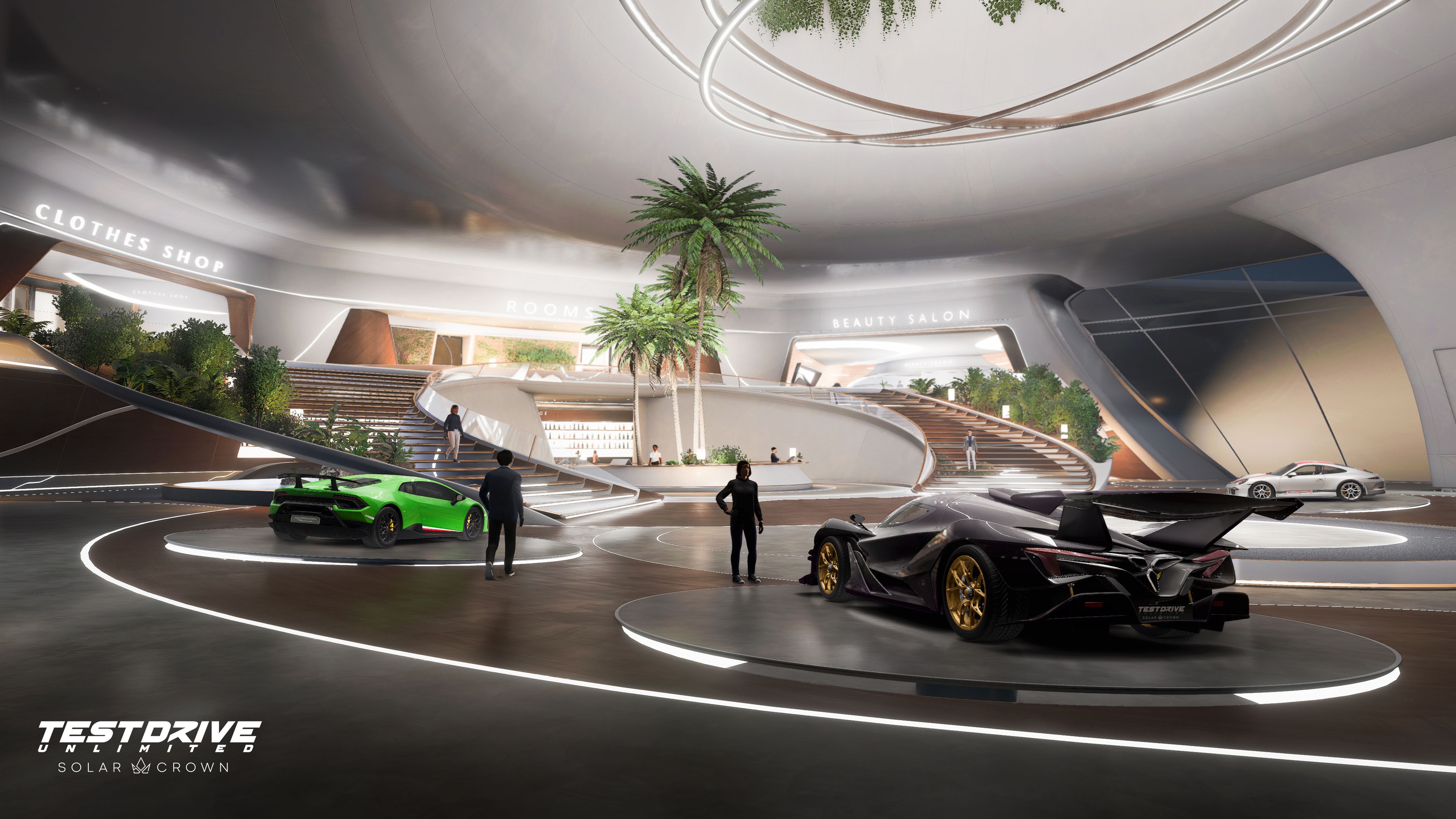 As with all luxury hotels, the Solar Hotel offers various services for its members. There is a clothing store where you can view a catalogue with a wide variety of items for sale to show off your style. In a world where luxury and reputation rule, everyone wants to make the biggest impression in the Solar Hotel.
Your progress and race rewards will give you access to hundreds of fashion items, from the most basic to the most lavish. In the lobby you'll also find a hair stylist and cosmetic surgery service. Radiant has recruited the world's top surgeons to ensure you can make any change you want to your appearance. So, you can live the affluent life of luxury you have always dreamed of. Finally, there is a valet service in front of the hotel to ensure you can explore the city with whichever car you feel like driving at that particular moment.
In the middle of the lobby, four special Solar Crown members will always be showcased for their achievements that day. Whether they have distinguished themselves in races, FRIM or extreme exploring, their favourite car will be on show to all other participants across the world. It's the ultimate recognition of your feats and is reserved for just four players!
The outside of the Solar Hotel is your gateway to the city and is also a central meeting point for players in their cars. The roads around here have been designed for easy access to the hotel even when there's a lot of traffic. Whether it's a car meet, a show of strength, or simply somewhere to meet friends, the Solar Hotel represents much more than your accommodation.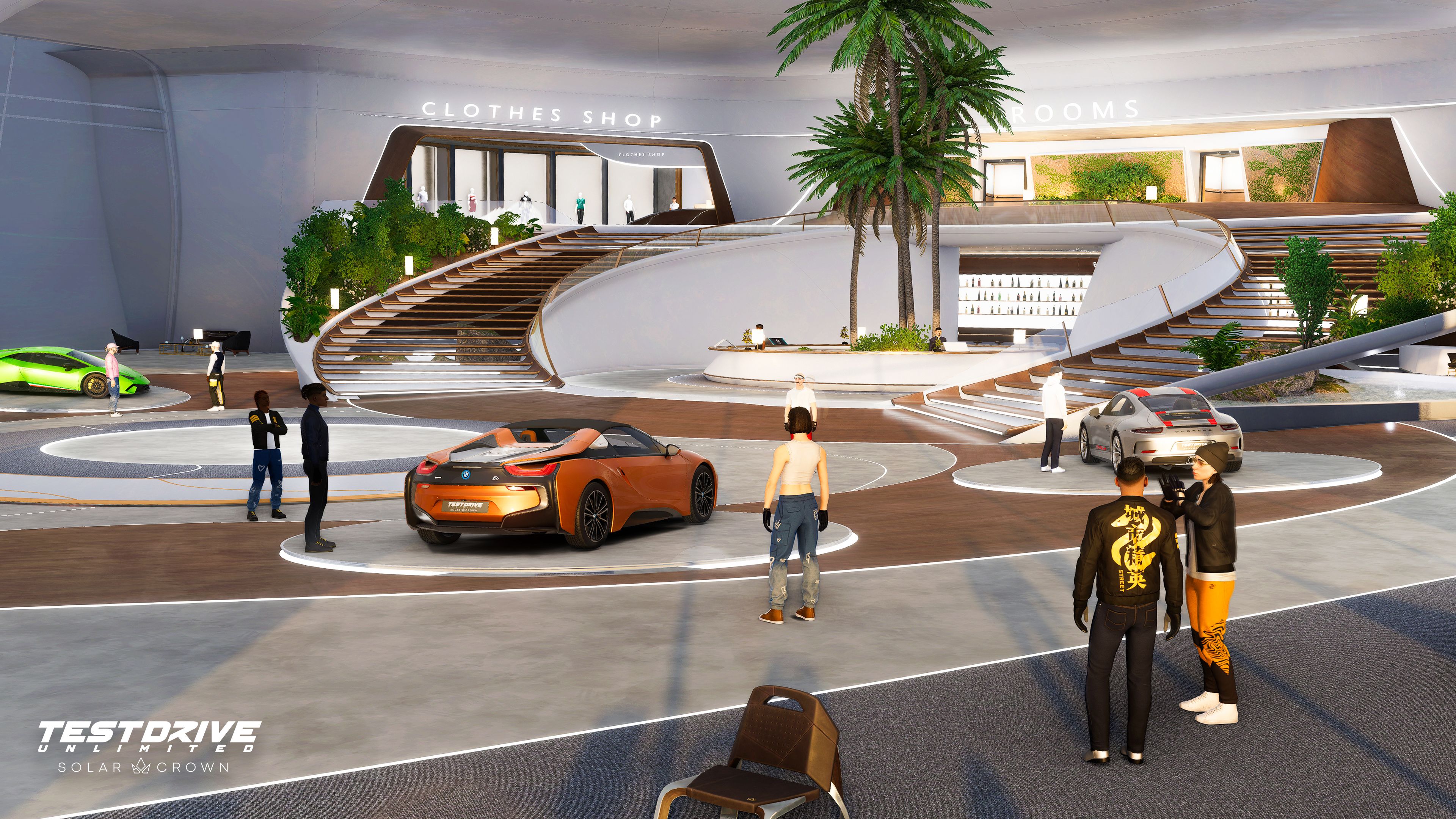 Note from Alain Jarniou, Creative Director:
"The lobby of the Solar Hotel illustrates our desire to get players together and help them interact. TDUSC is not just a racing game, it's a game for fans of beautiful cars, for racing or cruising around with friends, so it was essential for us to provide a place for players to meet up. The most obvious way to do this was with social hubs where players move around with their avatars rather than at 300km/h on HKI behind the wheel of a hypercar. In the first Solar Club Letter, we explained that players meet in dealerships and workshops, but the Solar Hotel is the central meeting hub in TDUSC.
Whether it's for strutting around with the latest exclusive clothes, throwing down an Instant Challenge to other players, seeing your car showcased after your latest triumph, buying new clothes, or changing your avatar's appearance, the lobby has been designed as a 'village square' in TDUSC.
We added this fantastic place and its rooms to enhance the accommodation concept in the TDU series. Fans of the franchise will remember the houses in TDU2 where you could extend your garage, but it was a very personal experience. Even though you could invite your friends, you must first make friends, and this is the objective with the Solar Hotel. We know that houses made an impression on TDU players. While this feature is not in the game when TDUSC launches, it is part of a long list of features we have already researched for future content in the medium and long term."
As you can see, to help the competition run smoothly in its first year, Radiant decided to host all its members in the same place: the Solar Hotel. But there are very few limits to Radiant's ambitions, and many investment projects are already being explored for future years. These projects include real-estate projects that would directly contribute to Radiant's growth and global influence of the Solar Crown and its ever-increasing number of members.
While waiting for your chance to visit the Solar Hotel, you should rest assured that all of Radiant's construction teams are hard at work and putting the finishing touches to their project so they can welcome you in the best way possible. Reservations and the first tours will open soon. Stay tuned!
Follow us on our social media:
Discord - Twitter - Facebook - Reddit

You can also support us by adding TDUSC to your Steam wishlist.
See you next month !
TDU Team.