Dear Solar Club members,
We have been quiet for a long time, but we fully understand how eager you are to learn more about this game, a project that means as much to us as it does to you. The team has been working very hard, and the game is progressing well. We're now in a position to share more about TDUSC with you. We have taken our time, but as you can imagine, we didn't want to disappoint you and we want every part of Test Drive Unlimited Solar Crown to meet your expectations.
That's why, starting today until the game releases, we will send out a Solar Club Newsletter [u]every month[/u]. These newsletters will reveal more details about the game, its development, and how we are respecting the DNA of the Test Drive Unlimited franchise. They will also be a chance for us to keep you up to date on everything happening with TDUSC this year. Here are a few examples of what we intend to share in the coming months:
• Screenshots and exclusive concept art
• Gameplay details
• Live game sessions with the developers
• Information on the testing phases
We hope you like this initiative and that it promotes discussion between us, whether it's on the game's Steam page or on the various official game channels.
And to make sure you don't miss any news, don't forget to join us on our social media channels:
Discord - Twitter - Facebook - Reddit

You can also support us by adding TDUSC to your Steam wishlist.
Dear members, we heard what you asked for: asphalt, nostalgia, the ultimate driving experience… One thing's for sure, 2023 will be full of revelations, answers and unique experiences.
For the first edition of our newsletter, we decided to share some details on choosing a car, buying it and customizing it, which are all core elements of the TDUSC gameplay and help make it a truly unique game.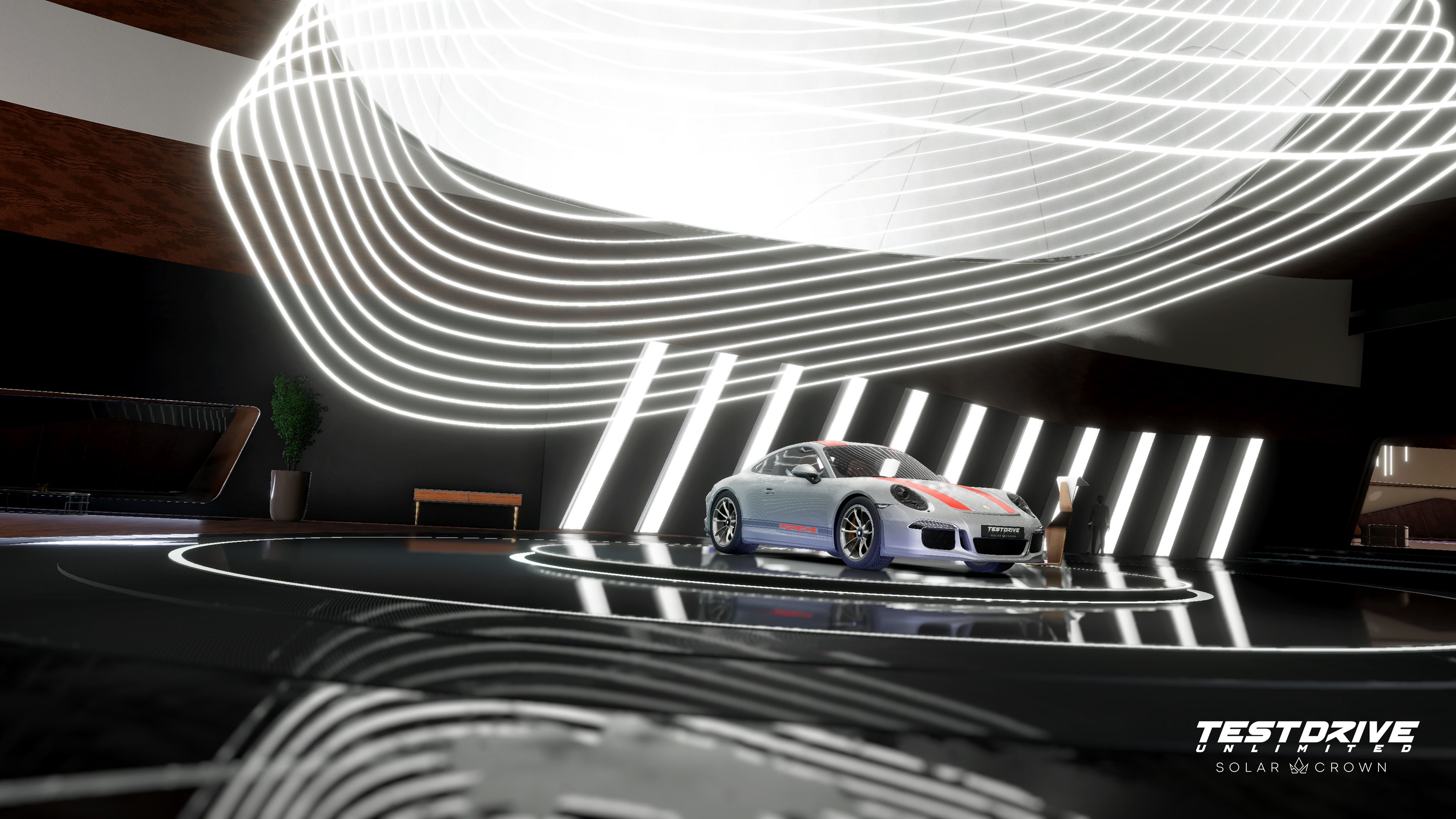 A REALISTIC DEALERSHIP EXPERIENCE
Buying a car in TDU isn't a trivial matter; it rewards the efforts you've made to earn enough money, and the decision shouldn't be taken lightly. With TDUSC, you don't just buy lots of cars without interest or emotions. We want each car you own to be something you love, an extension of yourself and your personality. What will be your next car? It should be the car you've dreamed about for several hours playing the game, one that shows off your style, one that reflects who you are, and one that will help you win the next races!
What could be more exciting than going from dealership to dealership, money burning a hole in your pocket, choosing and customizing your next car? And then there's checking out all the models, test driving them, browsing their specs, and finally making the big decision. After that, you just need to give your new toy the personal touch, including the paint job, interior, rims… your dream car. To conclude, you're finally handed the keys and can now proudly say it's yours!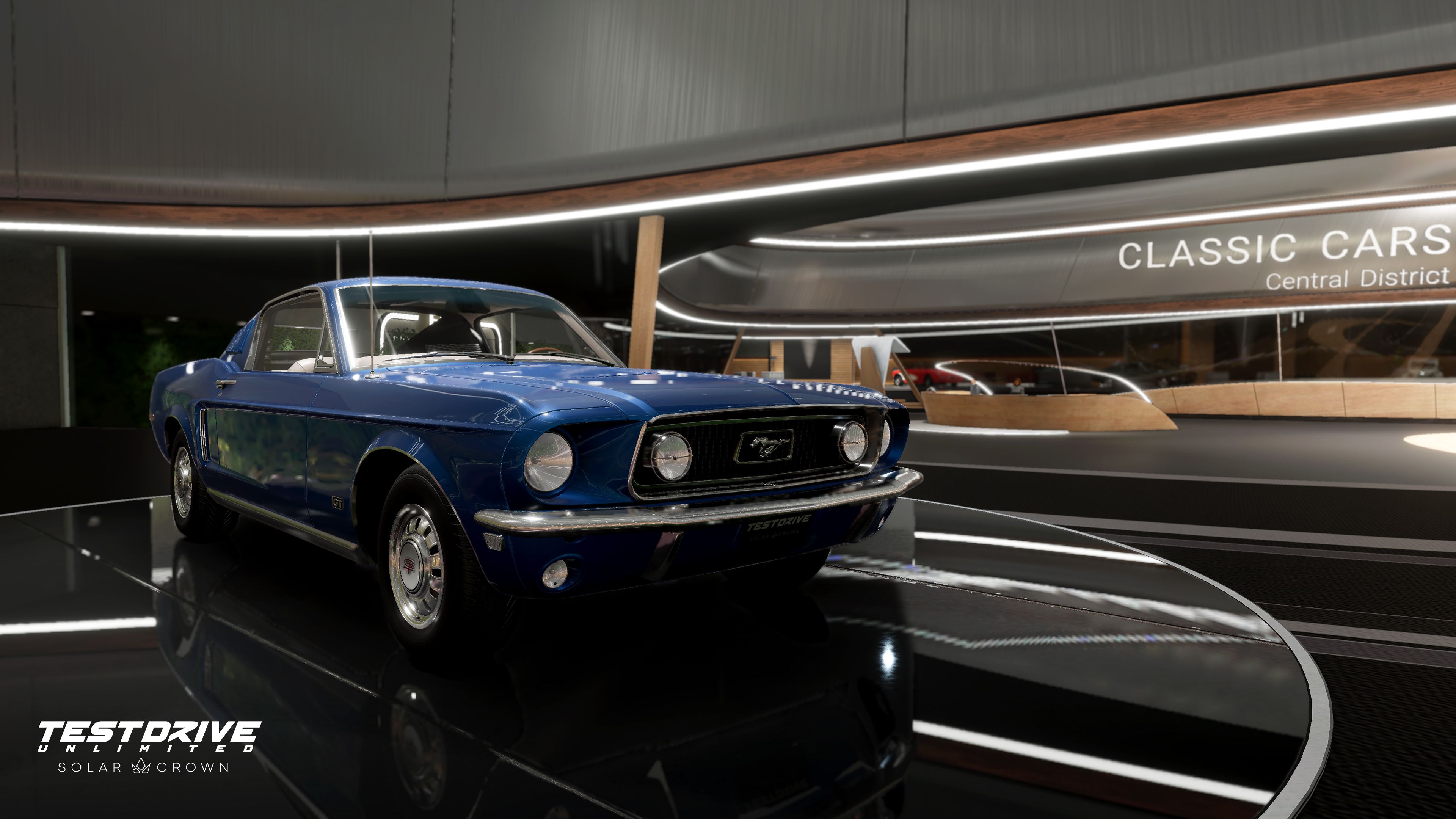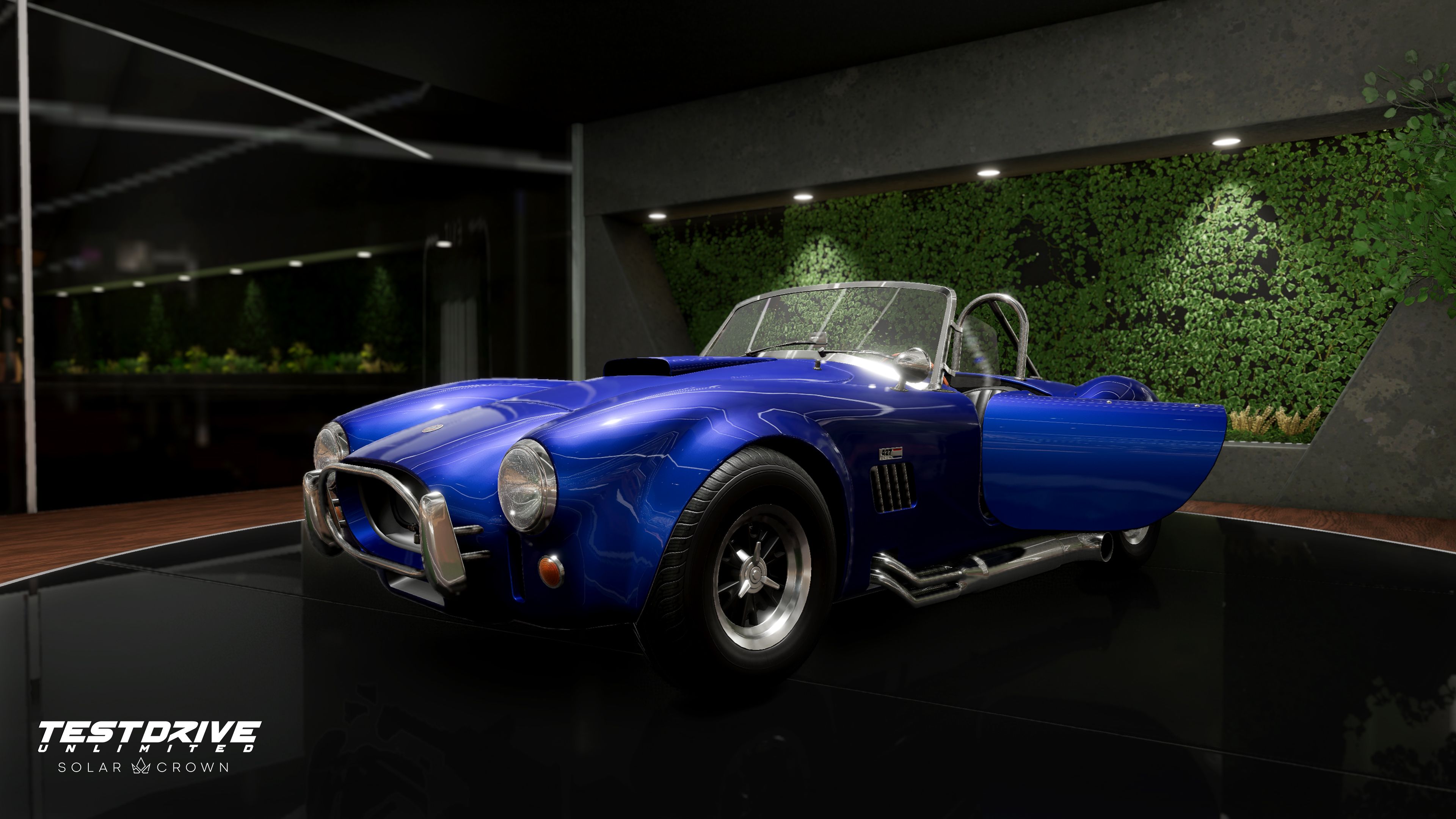 Are you more into American, Italian, or German ones? Do you want a daily driver or a Supercar? Off-road or GT? You'll find 14 specialist dealerships, each offering different brands, all over Hong Kong Island. Which one will have the car of your dreams? Two iconic marques from the TDU universe also have their own dealerships, entirely dedicated to their brands: Lamborghini and Ferrari. You'll find a wide selection of their models in those dealerships.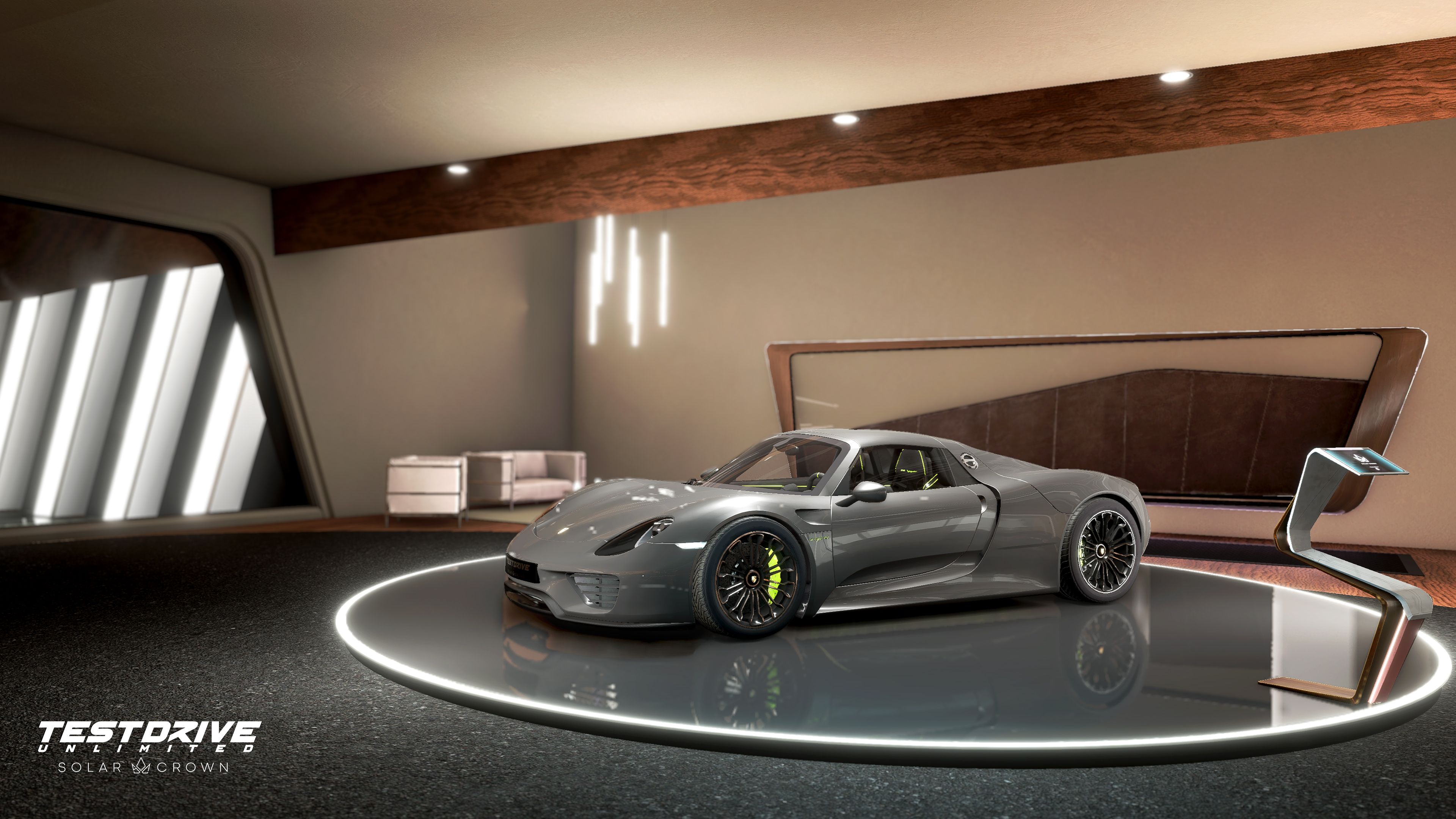 Notes from Alain Jarniou, Creative Director:
"Buying a car in TDU is always a special moment. It's a core part of the game for fans of beautiful cars.
In TDUSC we have created special places that showcase our cars. You'll discover them in real locations throughout Hong Kong Island as you progress and level up in the game.
Before buying a new car, we make sure you can take time to make the right choice. You can move around freely within the dealership, interact with the cars to choose the model you want, admire the exterior in detail, and get inside after opening the door to appreciate the comfort, try out the horn, and even start the engine, which is not always possible in real life!
All this interaction happens with other players around in what we are calling "social hubs". Like all areas where you can move your avatar around, it's a meeting place for chatting with other players and other car enthusiasts like yourself. We think it's essential that players can meet and communicate with each other. You can then decide to play together and greatly increase the fun of driving around in amazing cars (and earning bonuses at the same time).
Before making your final choice, you can obviously test drive the car to make sure the handling and drive meet your expectations.
When you've made your decision, you can then choose the exact model you want. The game offers the official options from manufacturers: paint, interior colours and rims, so you can purchase your dream car.
If you want to take the customization further, we have created special places for that: Workshops.
Finally, to make the experience as authentic as possible, the transaction concludes by you receiving the keys. That's all in the spirit of Test Drive Unlimited"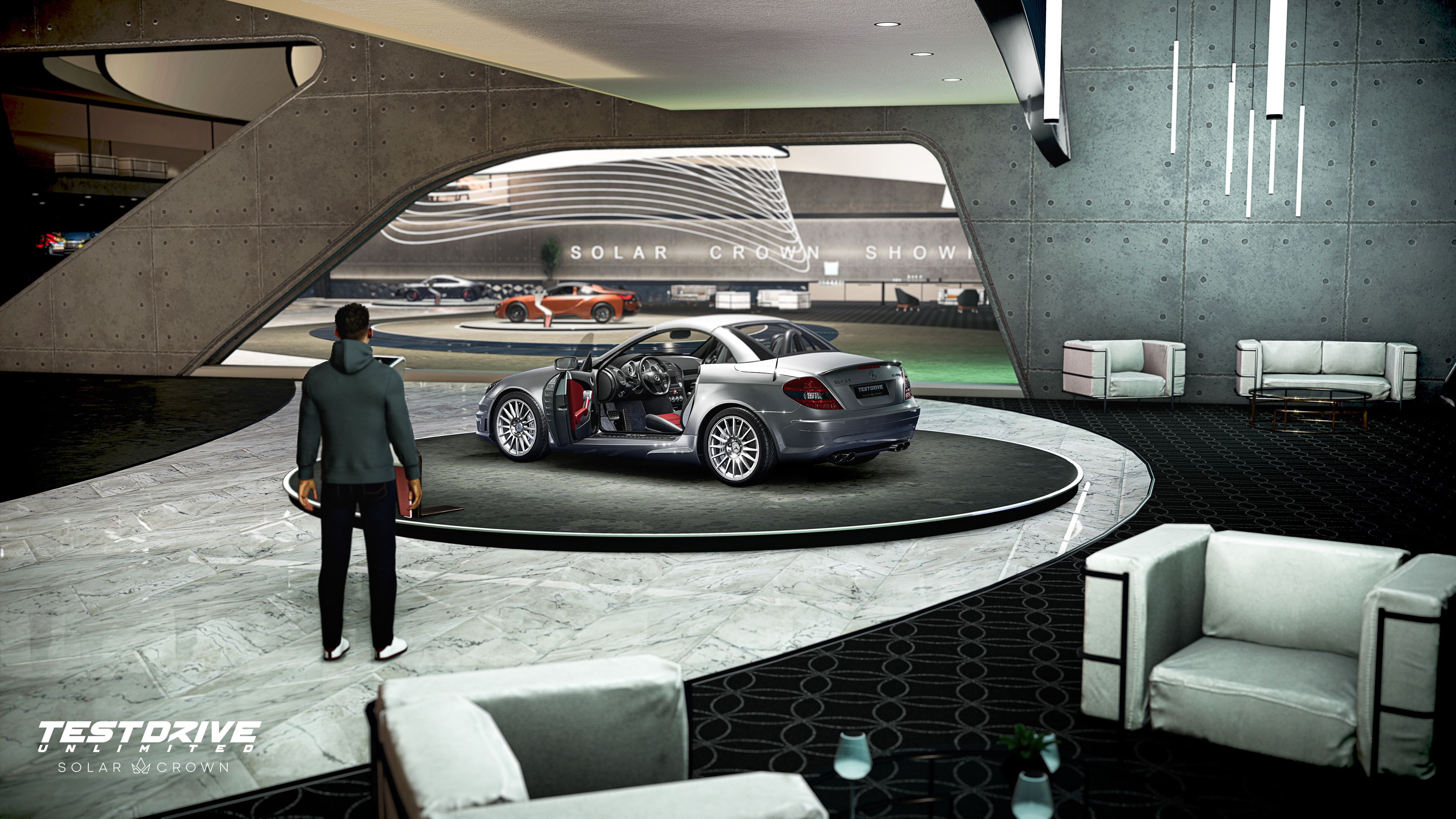 SOLAR CROWN WORKSHOPS
Want to give your cars a personal touch? That's what the Solar Crown Workshops are for. Need to prepare for the next races? Need more power, traction or a more playful car for pulling off the longest drifts? Stop by the Workshops! Looking to flaunt your Street or Sharp style with a full or partial paint job? You'll want the Workshops for that too!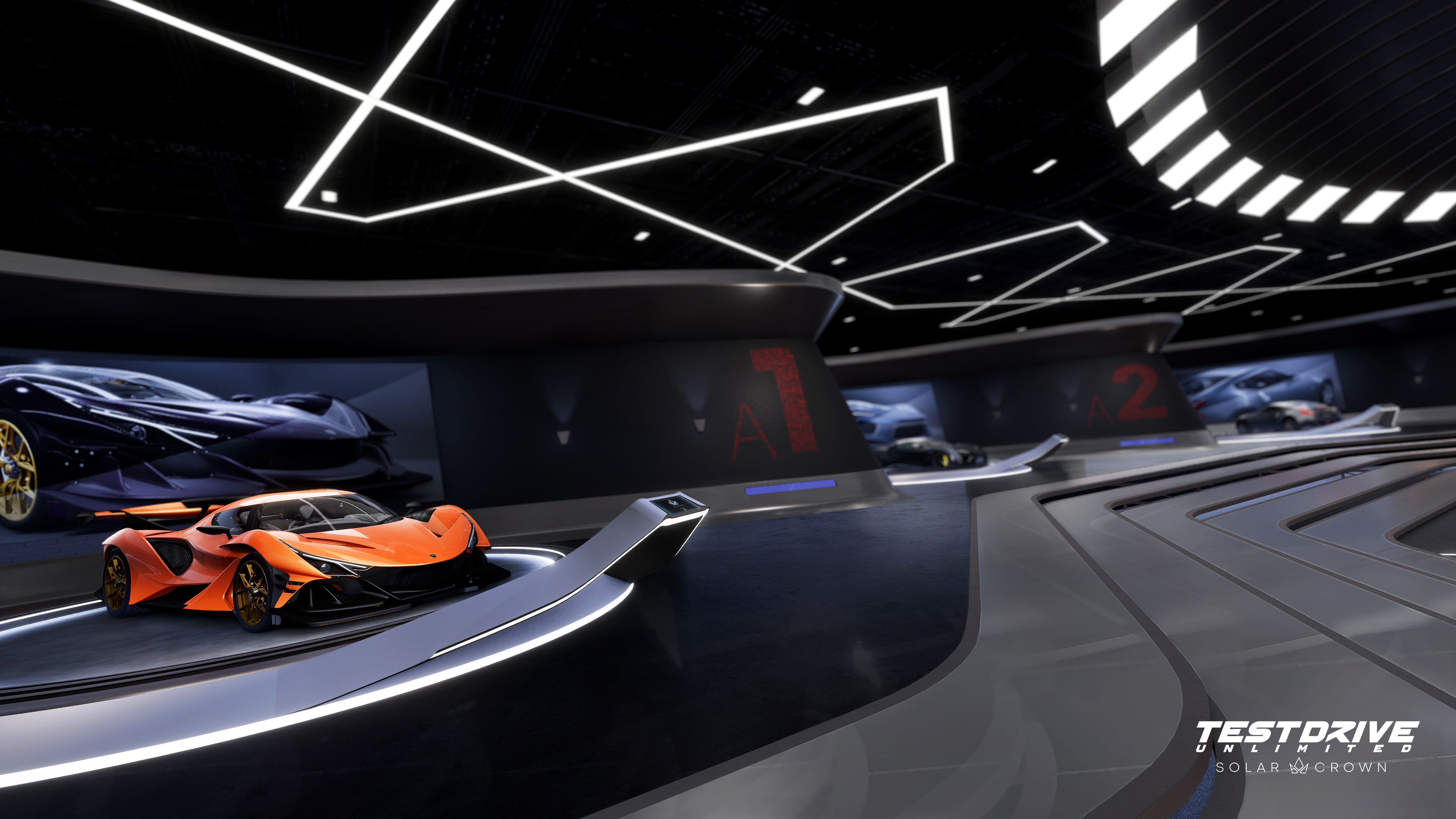 If you're looking for a performance boost, you have a wide range of modifications available: from suspensions to the gearbox to complete configuration of the engine. What if you're not much of a mechanic? The technical characteristics have been simplified to help you focus on what's important: power, traction, acceleration, braking… In total, there are 13 customizable performance parts across 6 categories for combustion-powered cars, and 12 customizable performance parts across 6 categories for electric cars.
Customizing the look of your cars is essential for any driver aiming for victory in the Solar Crown. Winning is great, but winning in style is even better!
Are you more of a purist and not really into liveries? You can choose one of the manufacturer's colours when you buy the car and just keep that. Or do you prefer to get creative and obsess over every detail? Express yourself in the Livery Editor and show off your style: metallic, matte, pearlescent and chrome paint jobs, and of course hundreds of stickers and decals to create unique designs.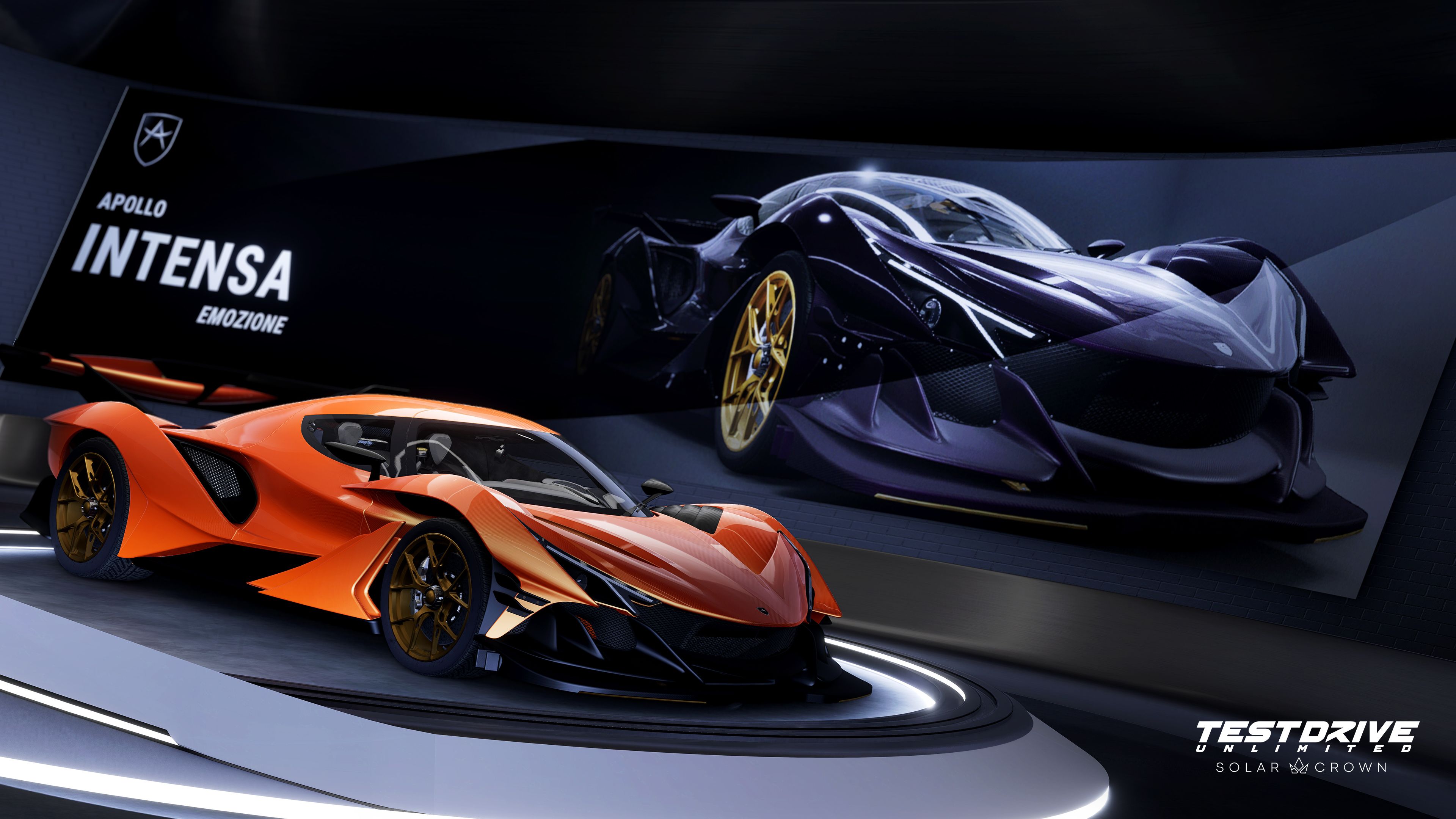 As you can see, there are lots of ways you can customize your car. However, you can't just claim to be an artist to become one. The Solar Crown organization has rules: access to the modifications available for your cars depends on your Reputation level. Your ties to the Sharps and Streets also unlocks unique customization options that are specific to each clan.
Notes from Alain Jarniou, Creative Director:
"The ability to customize your car is an essential part of an MMO like TDU. Whether it's to express your creativity to show off your style to other players or to tune your car to match the race conditions or explore off the beaten track, the Workshops are there to give you as many options as possible.
Like our other social hubs, Workshops are large community spaces. You can customize your cars and see what other players have done to their own vehicles. It's a chance to look at the most beautiful liveries and discuss the best configurations with other players.
Based on your level, you gain access to increasingly precise tuning options, which means you can create configurations for use in races later on.
TDUSC offers a driving simulation that is accessible for those who want an experience you can just pick up and play, yet challenging for those who enjoy spending time tweaking configurations and adapting their cars to match their driving style and for optimal performance in the various race conditions."

We hope you have enjoyed reading all this new information. Please feel free to share your comments about our first Solar Club Newsletter. As mentioned previously, a new one will be sent out every month with new topics and more news. Finally, we saw your enthusiasm during the previous Nacon Connect conferences. We wanted to let you know that Test Drive Unlimited Solar Crown won't be featured at the next conference on 9 March 2023, but we will be sharing more exclusive information about the game and gameplay every month!
TDU Team.